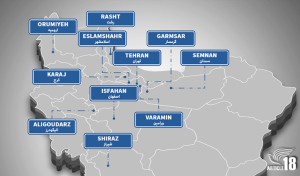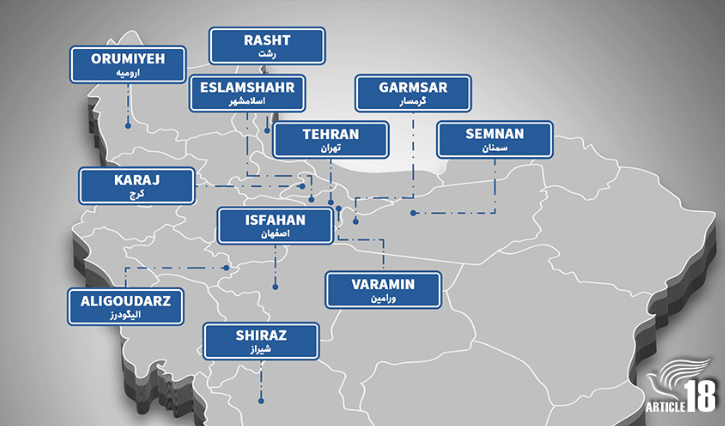 On 20 July, Iranian Christian religious freedom organisation Article 18 reported that over fifty Christians had been arrested in five cities during the previous week.
On 10 August, Article 18 published an update in which it stated, "A clearer picture is beginning to emerge of the dozens of arrests of Christians that took place over a seven-week period in June and July, across as many as eleven Iranian cities… The number of confirmed arrests now stands at at least 69, across eleven cities, and with at least ten of those arrested – four men and six women – still in detention. The arrests took place between 1 June and 17 July."
As well as the previously-reported arrests in Tehran, Karaj, Rasht, Orumiyeh and Aligoudarz, arrests have also taken place in Isfahan, Shiraz, Semnan, Garmsar, Varamin and Eslamshahr.
Some of those who have been released report that they were forced to sign commitments to refrain from further Christian activities, or were ordered to attend Islamic re-education sessions. Others say they were summoned for further questioning in the days after their release, or were ordered to leave Iran, while one said his employment was terminated at the request of intelligence agents. Bail amounts have ranged from 400 million tomans (approximately €7,330) to 2 billion tomans (approximately €36,650).
Article 18 is not at liberty to provide any more details about those arrested, but states that while the vast majority are converts to Christianity, at least two are Iranian-Armenians. Unlike converts from Islam, members of the historic Armenian and Assyrian churches in Iran are permitted to meet, but they operate under tight restrictions and must conduct their services in the Armenian and Assyrian languages, not Farsi (Persian, the official language of Iran, which is spoken by the general populace). They are not allowed to accept Christian converts into their services and gathering with converts for worship can land them in detention.
The recent wave of arrests of Christians has coincided with a crackdown on Iran's Baha'i community, another unrecognised religious minority group. In recent months scores of Baha'is have been arrested, tried and jailed on charges related to their faith.
Article 18's advocacy director Mansour Borji suggests that the return of a more forceful approach by the authorities, including a renewed crackdown by morality police, may be intended "to send out a message, both nationally and internationally, that they are not moved or deterred" ahead of September's first anniversary of the death in custody of Mahsa Amini, who was detained for allegedly wearing "improper" hijab.
Read more about the persecution of Iranian Christians in Church in Chains' Iran Country Profile.
(Article 18, Church in Chains Iran Country Profile)
Map: Article 18
Share this