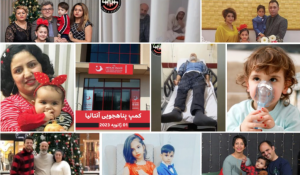 Church in Chains' partner organisation Article 18, a Christian advocacy group, has received testimonies from five Iranian Christian asylum-seeker families in Turkey (17 individuals) who have been arrested in recent weeks and detained in "removal centres", where they have been threatened with deportation.
The Christians, who in some cases have been held for over three months in the camps, reported unsanitary conditions and lack of access to food, hot water and medication. Husbands have been held separately from their wives and children and only permitted to see them once a week, for 15 minutes.
All the Iranians with whom Article 18 spoke are converts to Christianity except one who is Iranian-Assyrian (ethnic Assyrians are recognised as Christians in Iran but converts from Islam are still considered Muslim). Two are church leaders and several others lead worship or help with youth at their churches.
The majority had been living in the city of Isparta in southwestern Turkey and are detained at camps in the coastal city of Antalya, two hours' drive away, but Article18 has also received reports of Iranian Christian refugees being arrested in several other cities over the past six months and detained in camps across the country. Those who help them to publicise their mistreatment report threats from the Turkish police.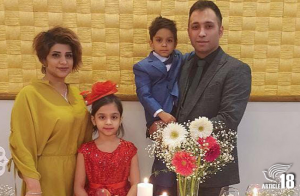 One of the Christians detained in Antalya, Kamran Topa Ebrahimi, who is being held separately from his wife Mona and their two children Roshana (8) and Hoshiana (5), said the men in his camp went on hunger strike to protest against the conditions and the lack of explanation of why they are being detained. The family is pictured, left.
"There is no hot water here at all for washing or bathing," he said, "And they put cockroaches in the food. They are starting a psychological war against us, telling us: 'You are going to stay here for six months, and if you don't return to your country in the next six months, it will be extended for another six months. And if you don't return then, it will be extended for another year!'
"We just want clarification on our cases. They open the doors to our room from around eight or ten in the morning until four in the afternoon, and then they put us back in our room again. They open them again at 8 pm, until midnight, and then they're closed."
Mona said there is no hot water in the camp and explained that she and the other detainees cleaned out a rubbish bin to use as a basin to wash themselves.
"The situation is very bad," she said. "Just to call you, I had to wait in a queue for more than one hour. Even for little things, we must fight to get what we need. You see fights for things like phone calls, washing machines and even boiled water. 
"We don't have a shower, and we don't have hot water from the tap, so we cleaned a rubbish bin and use it to wash ourselves. My son is five years old, and my daughter is eight, and in the last 21 days I could wash them properly only once.
"There is only one doctor here, and no matter what illness we have, he says you need to take paracetamol. My children have been sick for the last 21 days, and they don't get better because they don't receive suitable and proper nutrition. I received antibiotics for them from outside the camp. My friends brought the medications to me. But even so, my children don't get better.
"We have been on hunger strike for a week now because we saw insects, hair and worms in our food, and the hygiene is terrible, and the children get stomach pains. We haven't even received water and bread to give to our children yesterday or today.  
"There are six families here with children – from three to 18 years old – and the situation is not suitable for them at all… The circumstances are so difficult that we would rather go to Iran and get killed than stay here."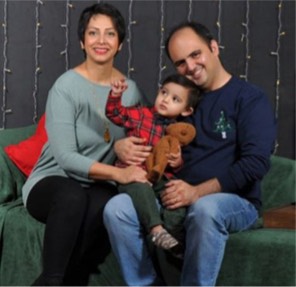 Assyrian pastor Ninous Italiaee has been separated from his wife Azadeh and their three-year-old son Anil, whom he can only see for 15 minutes a week. Azadeh explained, "Unfortunately, Anil is very anxious here and he isn't getting proper food; the hygiene is below-zero, unfortunately, and we have to wash with ice-cold water.  
"For two months, every day has passed like a year for us, and we really don't know what is ahead… We have no way to return to Iran because my husband is an Assyrian Christian and I myself was born a Muslim. Our marriage certificate states that we are 'Protestant Christians', and my child was born in Turkey, so he has no identity in Iran. We really cannot go back." 
Ninous said their asylum case was initially accepted by the UN in 2017, before the UNHCR passed on the responsibility of assessing asylum claims to the Turkish authorities. Since then, their case has been reviewed and rejected three times by the Turkish authorities.
"The UN organisation entrusted the work to the Turkish authorities, and unfortunately these people were not sufficiently competent to conduct the interview; they had no knowledge about the conditions of Christians in Iran," he said. "I believe that they don't know about the conditions of Christians in Iran, and that's why I think this issue should be reconsidered – not only for me, but also for the other Christians who are here."
For more details of these and other cases, read Article 18's report.
"Turkey is not a safe third country"
Human Rights Watch (HRW) has reported similar mistreatment of Syrian and Afghan refugees in Turkey and said the dramatic increase in deportations of refugees over the previous year was "likely attributable, at least in part," to a "tidal shift" in Turkish public opinion against refugees, with the vast majority of those surveyed saying refugees needed to be prevented from entering the country, or "deported urgently".
HRW said it was now clear that Turkey is not and should never have been viewed as a safe third country and said the EU was wrong to view it as such and to continue to fund the centres in which refugees are being detained. HRW researcher Nadia Hardman stated, "The EU and its member states should acknowledge that Turkey does not meet its criteria for a safe third country, and suspend its funding of migration detention and border controls until forced deportations cease. Declaring Turkey a safe third country is inconsistent with the scale of deportations."
HRW said the EU's deal with Turkey in 2016 was "based on the flawed premise that Turkey would be a safe third country" and added, "Turkey has never met the EU's safe third country criteria as defined by EU law."
HRW accused Turkey of failing to abide by international law regarding the principle of "non-refoulement", which prohibits the return of anyone to a place where they face a real risk of persecution, torture, ill-treatment or threat to life.
(Article 18)
Photos: Article 18
Share this