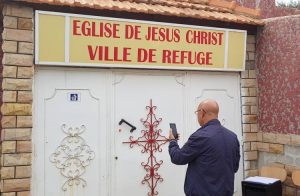 The Algerian authorities' ongoing crackdown on Christians has seen more church buildings shut down and sealed in recent months and by March only eight Protestant churches remained open in the entire country.
Historical churches are allowed to have buildings in Algeria, which is 98 percent Muslim, but since 2006 no church affiliated with L'Eglise Protestante d'Algerie, the umbrella organisation of the Algerian Protestant Church, has received a licence and the government's National Commission for Non-Muslim worship has ignored all applications.
In November 2017 the Algerian authorities began a crackdown on the EPA, demanding that affiliated churches prove they have licences and threatening them with closure. Since then over twenty churches, mostly EPA-affiliated, have been shut down and have had their buildings sealed. Once a court orders a church to close, police put wax on the door so that no one can enter the building without breaking the seal.
The authorities may not admit to closing churches for religious reasons  – as Todd Nettleton of Voice of the Martyrs USA explains, "They will find some construction code or something. 'Oh, you don't have enough parking spots.' They find some reason to close down a church. They want all of the churches to register, and they want them to meet only in a specific, approved location."
Members of closed churches have been forced underground and can only meet as illegal house churches or online. Many Algerian church leaders are receiving online training, as Fadi Sharaiha of MENA Leadership Centre explains: "We have so many brothers and sisters from Algeria joining our courses. 'How to do digital church' is one example. Another example: 'How to do cybersecurity for online services and ministry'… What is happening in Algeria [is] what happened to the first Church in Acts. They are closing down the buildings, but the Church is a group of people who believe in Jesus Christ, and they can meet wherever."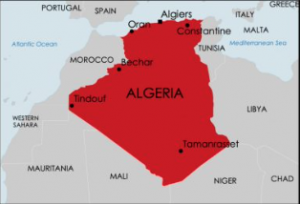 Since the crackdown began at least twelve Algerian Christians have been convicted on faith-related charges, including blasphemy and proselytism, and have received prison sentences of between six months and five years.
The situation for the church in Algeria has become so serious that the country is ranked "severe" in the new, fourth addition of the Church in Chains Global Guide, having been ranked in the lower "significant" category in the third edition.
"You never know what will happen tomorrow"
Lamenting how few churches remain open, a Protestant leader who partners with OM USA but remains anonymous for security reasons commented: "There are eight left open, but you never know for how long. [The remaining churches] have been visited by the authorities, and you never know what will happen tomorrow… the plan started in 2018 to close down all the churches. This is the situation we're in. It's quite sensitive, delicate, and challenging." 
The church leader said that the small but growing indigenous Christian population – mainly converts from Islam and their children – stands firm. "The Church in Algeria will never disappear because the vast majority of the Christians are Berber [and] Kabyle," he said, adding that as nomadic people groups, "they can meet anywhere. They have [the] Bible in their mother tongue; they have the worship songs in their mother tongues."
USCIRF report
A report on religious freedom in Algeria issued in November 2022 by the US Commission on International Religious Freedom (USCIRF, a bipartisan body of commissioners who advise the US government and Congress) notes that Algeria's penal code and Ordinance 06-03 regulating non-Muslim organisations are "inconsistent with international legal protections for freedom of religion or belief" and violate the International Convention on Civil and Political Rights, a framework Algeria ratified in 1989.
The report comments, "In recent years, the Algerian government has increasingly enforced these laws, imprisoning individuals on blasphemy and proselytisation charges."
Under Ordinance 06-03, passed in 2006, all places of non-Muslim worship must be licenced by the National Commission of Non-Muslim Worship. The commission has never met and no licences have  been issued.
Read more about the situation facing Christians in Church in Chains' Algeria Country Profile.
(Christian Post, Church in Chains Algeria Country Profile, Middle East Concern, Mission Network News, Voice of the Martyrs USA)
Photo: Church closed at Azaghar (Middle East Concern)
Share this