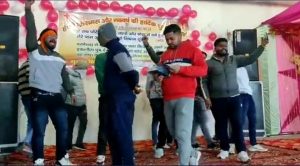 Hindu extremists in Haryana state in northern India launched at least ten attacks on Christmas services and events between Christmas Eve and St Stephen's Day.
Pastor J.J. Singh, a Christian leader in Haryana state, said a team formed to help distressed Christians was exhausted by calls from churches attacked on Christmas Day, as they received reports from 8.30am to 11.30pm. "Our Christmas was completely spoiled," Pastor Singh told Morning Star News. "Our team left the Christmas programme taking place in the church and sat around a table dealing with one case after another. They were extremely well-planned attacks. In many cases, when we spoke to the higher police officers, they straightforward told us, 'Do whatever you can, don't call us for help – we have official pressure on us.'"
Incident 1 (Kurukshetra, Pataudi district)
In Kurukshetra in Pataudi district, a Hindu nationalist mob (pictured above) of about 100 people led by the Hindu extremist group Bajrang Dal disrupted a Christmas Day celebration. Half an hour into a Christmas programme in which children were performing, the mob intruded into the venue shouting "Jai Shri Ram [Hail Lord Ram]." Some got up on to the stage, stopped the music and put on "Hanuman Chalisa," a popular mantra to "purify" those present. They also burst balloons and vandalised  decorations. The mob frightened the children, aged between 6 and 12, said Pastor Gurudev Singh, who had organised the Christmas celebration of songs, dances and a meal at a local party venue.
Rakesh Kumar, the local convenor of Bajrang Dal, later released a video claiming the event was being used for religious conversion. In the video, Kumar stated, "We reached the spot and tried to explain to them that they should be celebrating Shaheedi Diwas… Why are they staying away from Hindu traditions and festivals? When they did not understand, there was a little scuffle between us and them. So, we played Hanuman Chalisa for shudhikaran [purification]."
Kumar ended his statement with a threat: "Consider this Bajrang Dal's warning in clear words, if something like this is attempted again, we will deal with you properly. This time, we didn't say anything to you, but next time, we won't spare you."
Incident 2 (Siwanka village, Sonipat District)
Also on Christmas Day, Hindu extremists attacked a house church in Siwanka village in Sonipat District. The mob of 80 to 100 people shouted "Jai Sri Ram [Hail, Lord Ram]" and carried saffron flags. They pelted the house church with stones, bringing the Christmas service to a stop, and assaulted 73-year-old pastor Ram Kishan and seriously wounded his son, Vinod Kishan. "Five or six men pounced on me, and an equal number on Vinod, and began to hit us," Pastor Kishan said. "They hit Vinod so badly that he began to bleed from his head." Vinod was rushed to a local hospital and then transferred to the Post Graduate Institute in Khanpur for further treatment and tests before he was released that evening.
Hindu nationalist groups subsequently circulated a video claiming that they had staged a peaceful procession outside Pastor Kishan's house that Christians disrupted by hitting them. Pastor Kishan denied the allegation, saying that stones Hindu extremists threw from a distance hit a few of their own men at the front and injured them. Following the attack, 13 police officers were deployed outside Pastor Kishan's house church to prevent further attacks.
Incident 3 (Indri village, Karnal District)
Local Hindu extremists demolished a church building between 1am and 2 am on Christmas Day. However, the congregation gathered on a piece of land next to the demolished structure and celebrated in the open air, including a Christmas lunch, said pastor Lalit Kumar.
The extremists had been monitoring Pastor Kumar as he made arrangements for the Christmas service, he told the Religious Liberty Commission of Evangelical Fellowship of India. "They did not want us to celebrate Christmas, and that is why they demolished it," Pastor Kumar said. Police had not yet registered a First Information Report even after Pastor Kumar filed a complaint, he said.
Incident 4 (Gurugram District in Pataudi town)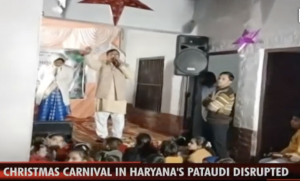 On Christmas Eve, around 100 Hindu nationalists disrupted a Christmas carnival organised by House of Hope Church at a local public school. The event, featuring dance and drama by children, was disrupted when the attackers burst into the venue and accused Christians of converting people.
Led by Ram Pradeep Pandey, leader of the Dharam Jagriti (Religious Awakening) Mission group, the attackers shouted "Jai Shri Ram [Hail Lord Ram]" and other Hindu slogans, went onto the stage, snatched the microphone from singers and asserted that Christianity was not acceptable there.
"It was a simple Christmas function… there was no preaching," said event organiser Ravi Kumar. At least 55 people, including women and children, were in attendance. "The protesters told people to leave and never return," Kumar continued. "We felt hurt since it happened in front of children, who were scared."
Police have taken no action, though Haryana Chief Minister Manohar Lal Khattar termed it an "unfortunate'' incident that should not have happened.
Incident 5 (Barwala village, Panchkula District)
A group of fifteen Hindu nationalists disrupted a Christmas celebration at a church in Barwala led by Pastor Qayum Sheikh and physically assaulted the Christians whom the assailants claimed were converting people. Police took a statement from the pastor but have taken no action against the assailants.
Incident 6 (Karnal District)
On Christmas Day, Hindu nationalists carried out a protest featuring black flags and chants against religious conversion. Local media recorded the protestors saying that they would suffocate Christians. "We have begun the protest from Karnal on this Christmas Day, and it will spread like a wind to the whole of India," said a Hindu leader. The protestors demanded stringent laws in the state to stop conversions by force or allurement.
Incident 7 (Hisar City, Hisar District)
About 80 to 100 people disrupted a Christmas Day celebration and called police alleging conversions, resulting in the arrest of a pastor identified only as Rajesh. Local Christian leaders managed to persuade officers to release the pastor.
Incident 8 (Mussimbal village, Yamunanagar District)
About 50 members of the Hindu nationalist group Bhavani Sena disrupted a Christmas celebration, arguing with the pastor and chanting at the entrance of the tent. The mob alleged that the Christians were carrying out conversion by paying 500,000 rupees (€5,950) to each person.
They also objected to regular Sunday church services as well as Christmas gatherings in the village. Videos of the incident on social media show local police were present when the intrusion took place. People at the Christmas service told local news media that they were under no pressure to forcefully convert to Christianity.
Incident 9 (Holy Redeemer Church, Ambala Cantonment)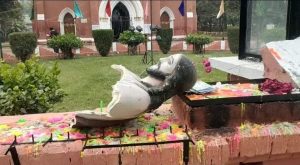 In the early hours of St Stephen's Day,  CCTV  captured footage of two men arriving on a motorbike and entering the premises of the Holy Redeemer Church after jumping over the main gate.
"We don't know what their intention was,"  Rev Antony Chacko, assistant parish priest, told Morning Star News. "The intention was not only breaking the church, but they also urinated near the entrance door of the prayer hall. God forgive them. They pulled the lights and damaged the decorations. Before leaving, they also broke the glass case and pulled down the 5-and-a-half-foot, ancient statue of Christ, which was more than 100 years old."
The parish priest, Rev Patras Mundu, told media that the CCTV footage showed the suspects were in contact with someone over the phone as if taking instructions. "It seemed that they were acting at someone's behest," he said. The desecration was the first such incident in the history of the church building, constructed in the 1840s and rebuilt in 1905, he said.
"Thousands of people come on Christmas to this historic church, offer their prayers and go," he said. "This has been the tradition for many, many years. Never ever has such a thing happened. From morning till late night, they come, but this time we opened the church keeping in mind the curfew norms and following all COVID protocols. We vacated the church by 10 p.m. and locked the gates before 10.30 pm"
Police registered a First Information Report against two unidentified persons under Indian Penal Code sections for "deliberate and malicious acts, intended to outrage religious feelings," "mischief causing damage to the amount of 50 rupees" and "house trespass" and subsequently arrested two local men, Sandeep Kumar and Ravinder Kumar, both of Vashisth Nagar in Ambala District.
Incident 10 (Sampla village, Rohtak District)
About 30 members of a Hindu nationalist group camped at the entrance of a church in Sampla village on St Stephen's Day and intimidated Christians attending a Sunday service. The service was overflowing with church members and the situation remained calm, but the next Sunday (2 Jan) the Hindu nationalists descended on the church and attacked worshippers. Police rounded up six or seven Christians and took them to the police station for questioning, and they were later released.
Behind the Attacks
Haryana state has become a hotbed of Hindu nationalist activity as the Rashtriya Swayamsevak Sangh (RSS) umbrella group has instructed Bajrang Dal, Vishwa Hindu Parishad and other groups to rein in minority groups such as Christians, a local lawyer (whose name is withheld for security reasons) said.
The lawyer said Hindu nationalist organisations can mobilise groups of 20 to 50 people on very short notice that disrupt worship services, damage church property or carry our protest rallies. "The aim is to create an atmosphere of chaos, stop church services and threaten and harass the Christians mentally as well as physically and issuing warnings to them," he said.
Haryana's Chief Minister Manohar Lal Khattar said in August that the final draft of an "anti-conversion" law for the state would be prepared soon.
(Morning Star News, Evangelical Fellowship of India Religious Liberty Commission, Indian Express, NDTV,  Scroll.in, The Print)
Share this