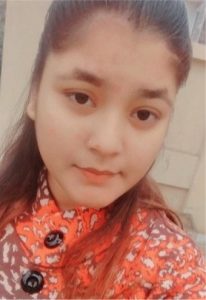 Mahnoor Ashraf, a 14-year-old Pentecostal Christian, went missing on 4 January 2022 after leaving her home in Lahore's Cantonment area to go to a nearby shop.
Her father Ashraf Masih Chaudhry told police that their Muslim neighbour Muhammad Ali Khan Ghauri (45), who is married with two children, abducted Mahnoor with help of his friends.
Mahnoor, the youngest of four children, was accompanied by her 8-year-old nephew when she went out, and as soon as the boy told family members what had happened they began searching for her. Mahnoor's older brother Akram Masih Chaudhry said they went to Ghauri's house but he was not there.
"Ghauri's house is on the same street, and our families had good terms with each other," he told Morning Star News. "We don't know when he managed to lure Mahnoor into a relationship."
The family registered a First Information Report with police on 5 January, but Akram said the investigating officer was slow to act. He added, "Finally, on January 7, Ghauri's family informed us that Mahnoor had allegedly converted to Islam and married Ghauri on January 4, the day she was taken."
Akram named the friends who allegedly helped Ghauri abduct Mahnoor as Muhammad Waqas, Raza Ali and Muhammad Imran, and said local cleric Muhammad Ibrar performed the Islamic marriage despite knowing that she was a minor. He noted that the Islamic marriage certificate states Mahnoor's age as 19, though her birth certificate shows that she was born on 19 August 2007.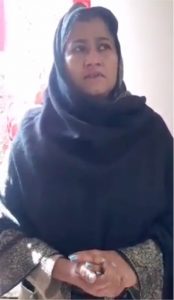 Akram said the family fears for the health of his mother (pictured) due to shock and grief over her missing daughter. "The police are not doing anything to find Mahnoor," he said.
Mahnoor is the latest of a long list of Christian and Hindu girls alleged to have been forcibly converted and married to Muslim abductors, particularly in Punjab and Sindh provinces.
Child marriage is banned under Pakistan's Child Marriage Restraint laws, but courts have repeatedly stated that marriage of underage Muslim girls is not invalid because according to Islamic law a consenting girl who has reached puberty can marry. Kidnapped girls often face threats if they do not testify in court that they converted and married of their own free will.
(Morning Star News)
Share this