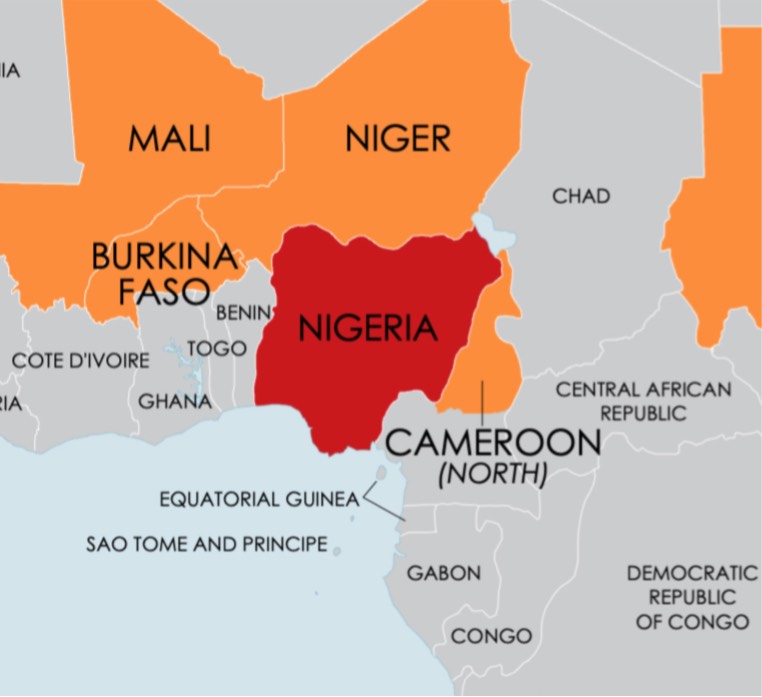 On 16 July militant Fulani herdsmen and other terrorists killed six Christians in Benue state in the east of Nigeria's Middle Belt region, the latest of 37 Christians killed in a three-week period of deadly attacks in the state.
The attackers arrived on motorbikes at two predominantly-Christian villages in Ushongo County, said local resident Bemgba Iortyom, who told Morning Star News in a text message: "The terrorists, who accompanied armed herdsmen, first attacked Igba-Ukyor village, where they killed five Christians, and then proceeded to a second village, Tse Baka, where they killed one Christian."
On 8 July two predominantly-Christian villages in Ukum County, Zaki Akpuuna and Diom, were attacked and thirty Christians were killed. Ukum council chair Kartyo Tyoumbur told Morning Star News: "The band of terrorists was made up of about twenty who were armed with deadly weapons. They burned down several houses. Thirty corpses of Christians killed were recovered, while searching for missing Christians is ongoing." He said victims were members of the Universal Reformed Christian Church (NKST) and the Roman Catholic Church.
On 30 June one Christian was killed and two others were wounded in an ambush in Tse Anwhwan village, Logo County. Council chair Salome Tor told Morning Star News, "The armed men ambushed and opened fire on the victims and murdered one Mr Saater Apera, a member of the NKST church, and also shot and injured two other Christians. The incident was reported to the police, and the corpse of the murdered Christian was recovered, while the two injured victims were taken to the hospital for treatment."
Catherine Anene, spokesperson for the Benue State Command, said security personnel had been deployed to the areas. "Terrorists have been invading some communities in some local government areas of Benue state," she said. "Police teams, in collaboration with other security agencies, have been deployed to affected areas in order to engage these bandits. We believe that these unprovoked attacks would be contained."
Benue state officials said they had appealed to the federal government to take urgent steps to end the atrocities.
Fr Hyacinth Alia, a Roman Catholic priest who was elected governor of the state in May, said in a statement that the attacks were a grievous sin against God and mankind. "A directive has been given to security agents to arrest those behind these unlawful acts and bring them to book," he said. "I send words of condolence to those whose loved ones were killed in these attacks and pray to God for their comfort."
Morning Star News reported that militant Fulani herdsmen killed at least 46 Christians in Benue state in June and dozens in May, part of a trend of mass killings in villages across the state.
"Mass slaughter meets the criteria of a calculated genocide"
In a testimony prepared by Roman Catholic Bishop Wilfred Anagbe of the Diocese of Makurdi, Benue State for a hearing before the US House Committee on Foreign Affairs on 18 July, he described his experience in the Benue Valley and his Diocese of Makurdi "where, for a long time, attacks by Islamic militants not only killed thousands, but also displaced millions who now take refuge in camps scattered across the state. Schools, clinics, churches, markets, etc. have all been destroyed in some areas."
The Bishop told the hearing: "Since 2014, when I became bishop, I have lost territory to the Islamic militants masquerading as herdsmen. I have had to close 14 parishes because of the danger… For us in Benue State, where the Christian population is almost 97 percent, the killings by Jihadi elements have going on for a long time, and from 2009 on, the pattern of displacement and occupation of lands by these elements became commonplace. There has been destruction of churches, schools, clinics, local markets, farms, etc. Since 2014, my fellow bishops in Benue and I have lost parishioners almost daily.
"The killings of people, even pregnant women and children, and the occupation of their lands to cause the cessation of all economic activities mirror the pattern of Jihadi elements like Boko Haram in other parts of Nigeria. I think you will agree that this mass slaughter of Christians by all standards meets the criteria of a calculated genocide. The United Nations Office on Genocide Prevention and the Responsibility to Act defines genocide as 'acts committed with intent to destroy, in whole or in part, a national, ethnic, racial, or religious group'.
"It is disheartening to note that since the atrocities started, nothing serious has been heard to happen to the perpetrators. Our national government has not shown convincing signs of or real commitment to ending the killings… I call on all who hear my words to come to the aid of the Christian community in Benue, and indeed, in Nigeria as a whole, before it is too late."
(Aid to the Church in Need, Morning Star News)
Map: Church in Chains Global Guide 4th Edition
Share this