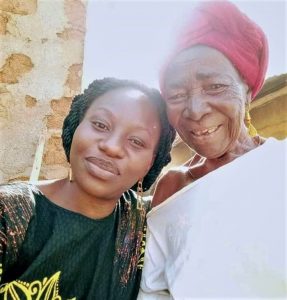 The first month of 2022 has seen a continuation of violent attacks by heavily-armed Muslim Fulani militants against predominantly Christian villages in the Middle Belt region of Nigeria.
On Sunday 30 January, eleven Christians were killed and several others were wounded when Fulani herdsmen set more than thirty properties ablaze in Kurmin Masara village, in southern Kaduna state. Danjuma Enoch said his grandmother, known as Mama Fide (pictured on the right), was burned to death in the attack, which took place at 3 am. He said that his grandmother was unable to escape from her burning bedroom because she was very old and visually impaired, adding: "Grandma was our surviving grandmother and a great-grandmother to many of our younger ones."
Local resident Moses Zamani Kambai confirmed that the assailants were Fulani herdsmen and stated they had attacked the community several times in January. He said "Some of these evil happenings are under-reported, and many don't get reported at all. We call on the government to double its fight against the terrorists in those communities affected."
On Saturday 22 January, armed herdsmen ambushed Christians in Dong village, on the outskirts of Jos, Plateau state, killing four and wounding two. Yil Gonsum, an aid worker in Jos, said: "Dong village has served as a place of refuge for displaced Christians since 2017. In 2018, hundreds of displaced Christians from Miango District fled to Dong village seeking refuge, but now both the displaced and resident Christians have severally been attacked by the herdsmen." Fulani herdsmen also attacked the area in May, killing seven Christians.
On Tuesday 11 January, suspected Fulani herdsmen attacked Ancha village, Plateau state, at midnight, killing 18 Christians – including six children. A further six Christians were injured and over 24 houses were destroyed in the attack. Cars, motorbikes and harvested food crops were destroyed and many valuables were stolen. Christians in Ancha and nearby areas also suffered attacks on Christmas Day 2021, New Year's Eve 2021 and 7 January 2022, resulting in several deaths.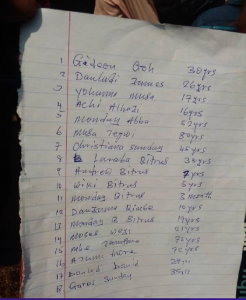 Davidson Malison, a representative of the predominantly Christian Irigwe ethnic group, said: "The national leadership of the Irigwe Development Association has lost words to convey the state of sadness and broken-heartedness Christians have been confined to courtesy of the acts of barbarism and callousness that have been done to us by herdsmen. We have called on security agents and the government on several occasions to devise means as well as grab the political will to end the spate of carnage being unleashed on Christians, yet no concrete and tangible efforts have been made."
He identified the slain Christians (ranging in age from a three-month-old baby to an 80-year-old) as Monday Abba (52), Achi Alhaji (16), Laraba Bitrus (38), Monday B. Bitrus (19), Andrew Bitrus (7), Wiki Bitrus (5), Monday Bitrus (3 months old), Gideon Goh (30), Danladi James (26), Danladi David Musa (28), Yohanna Musa (17), Danjuma Rimbe (10), Christiana Sunday (45), Garius Gado Sunday, Musa Tegwi (80), Moses Weyi (21), Mbe Weyi (21) and Azumi Wreh.
Sixteen of the dead were members of the Salama Baptist Church, part of the Bethel Baptist Association.
Some of those who attacked Ancha village were identified as Fulani militants, dressed in black while others wore the uniform of the Nigerian Army. Despite thirty soldiers with AK47s being stationed in the village when the attack happened, they did not defend it against the invading militants. According to eye witnesses the soldiers stood by and watched as the village was destroyed, and villagers killed.
On Monday 10 January, herdsmen together with other Islamic extremist terrorists attacked Gbagyi village outside Kaduna city, killing one Christian and kidnapping ten members of the community mostly women and children. Fulani herdsmen attacked Maraban Rido, another village outside Kaduna city, on 4 January and captured six Christians. At the time of writing the victims of both attacks are still being held captive.
Rev. Ali Buba Lamido, Anglican archbishop of Kaduna province, called on the government to declare a state of emergency in northern Nigeria. "Christians are attacked, and unarmed persons are either being killed or kidnapped in the country,"  said the archbishop. "Most times, Christians are being killed and their houses destroyed by herdsmen and terrorists. There's need for the government to protect these communities."
(Barnabas Fund, International Christian Concern, Morning Star News)
Share this