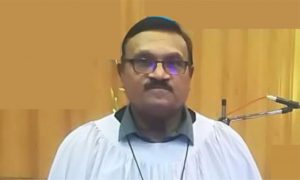 Rev William Siraj (75) was shot dead in a targeted killing in Peshawar on Sunday 30 January.  He was in a car returning home from preaching at Shaheedan-E-All Saints Church (Martyrs and All Saints Church) when two gunmen on a motorbike fired through the car window. William was shot in the head and died instantly, while his friend and travelling companion, Rev Patrick Naeem (55), was shot in the hand.
In the aftermath of the attack, Peshawar police chief Abbas Ahsan described it as a "terrorist attack". While no group has claimed responsibility, local speculation is mounting that Tehreek-e-Taliban Pakistan (TTP) may be behind the violence. Another theory is that the gunmen had come over the border from Taliban-ruled Afghanistan, which is only 55  kilometres from Peshawar.
William's family had suffered in a previous terrorist attack in Peshawar in 2013 when his son-in-law, cousin and her husband and daughter were among 127 people killed in a suicide bomb attack by an offshoot of TTP on All Saints Church in Peshawar.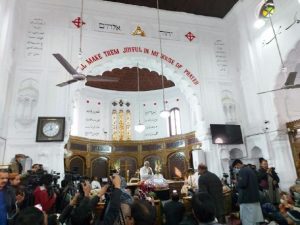 Over 3,000 people attended William's funeral on Monday 31 January, at which three bishops spoke and many clergy participated. The church was so full that people sat on the ground around the coffin and others were outside trying to listen. Rev Patrick Naeem, was present having been discharged from hospital.
The leader of the Church of Pakistan (a union of Anglican, Lutheran, Methodist and Presbyterian churches), Bishop Azad Marshall, condemned the killings, calling for "justice and protection of Christians from the government of Pakistan".
Family Tributes paid to a dedicated pastor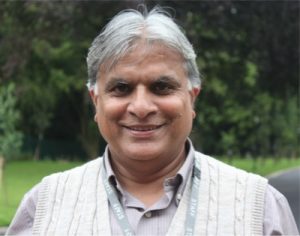 William was the eldest brother of Wilson Saraj (pictured) of Barnabas Fund who spoke at the Church in Chains conference in Athlone in 2012. In the midst of his shock and grief, Wilson  said, "I am very humbled and I praise and thank God that I belong to a family of martyrs." He paid tribute to his brother, saying, "He was so committed. He would often say to his wife: 'Please do not ask me to stop going out to preach and pray with people.'"
It is understood that his wife had asked him not to go to church the very Sunday of his martyrdom as he had had a slight accident the day before and was not fully well but he replied to her, "Please don't stop me from going, because I have prepared and I have to preach a sermon."
William's daughter, who was widowed by the 2013 attack at All Saints Church, said, "I praise God and am so proud that I am the daughter of a martyr and the wife of a martyr too." Another family member said, "Everybody loved him. He worked so hard and was so gentle and caring. He had no enemies."
Passionate in ministry
Barnabas Fund described William's ministry: William Siraj had always been energetic and passionate in Christian ministry. He took every opportunity to share the Word of God. Indeed, his favourite song was Anjeel ko Phelana Ye Kam Humara (Spreading the Word of God is our work).
An excellent sprinter and cricketer, he earned his living first working for Pakistan Railways and then as a physical education instructor at the University Public School, Peshawar. But every evening he would be out preaching and teaching in the Christian bustees (slums), on his own initiative.
Then came the call from his church, All Saints Peshawar, to start a church for a community of poor and uneducated Christians, mostly doing low-paid, dirty jobs for the municipality. They had been re-settled by the municipality in what is called in Pakistan a "Christian colony" when their former homes were demolished to make room for a new road.
From the very beginning, William was there to give pastoral care, teach, encourage, lead and guide the vulnerable Christians. He was there to care for them when seven of their members died in the 2013 suicide bomb attack at All Saints Church. Since then the church at the Christian Colony by Peshawar's ring road has been called Shaheedan-E-All Saints Church, meaning "Martyrs and All Saints Church".
William had gone to this church every Sunday since it was started, more than ten years ago. Initially he led the services single-handed, and then, as the congregation grew, in collaboration with an ordained pastor from the Church of Pakistan.
A member of William's congregation said, "He was a very humble and godly man, and we all respected and loved him. He loved us so much."
(Barnabas Fund, Aid to the Church in Need, Christian Solidarity Worldwide, Morning Star News, World Watch Monitor)
Share this