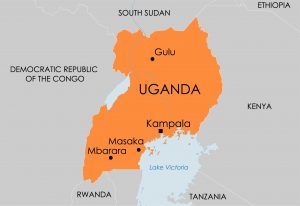 Muslim extremists killed three Christians in separate attacks in Uganda in July, the latest in a long sequence of persecution incidents in the country documented by Morning Star News.
Uganda is over 80% Christian and in general enjoys religious freedom. Muslims comprise about 12% of the population, with high concentrations in eastern areas of the country where they oppose the presence of churches and increasingly persecute Christians. Converts from Muslim backgrounds are at risk of attack by family or community members and there are regular reports of Christian converts being injured or killed.
Evangelist killed in his home
On 29 July, Muslim extremists brutally attacked evangelist Sozi Odongo (45) in his home in the town of Agule in eastern Uganda's Pallisa district.
The previous week, he had received threatening text messages including one from a local sheikh in Pallisa town that read, "Please stop preaching to our people using the holy Quran, or else you risk your life." Local sources said that Sozi Odongo had held open-air evangelistic events in several villages in Pallisa district at which he had cited the Quran and the Islamic hadiths (sayings of Muhammad).
After holding an event on 29 July, Sozi arrived home and had eaten dinner with his family when they heard a group of people approach the house and knock on the door. His wife Stella Kilo and their four children went to hide in the bedroom, but Sozi opened the door and the attackers began beating him all over his body and cutting him with a sharp instrument that left deep wounds to his head, neck and arm.
Stella told Morning Star News that her husband screamed, "Please don't kill me," and added, "Then I heard a loud hit, and thereafter no more screaming." When she was certain that the attackers had left, Stella opened the bedroom door and found her husband in a pool of blood. "I tried calling to my husband," she said, "But he was unable to talk, and I then rang a neighbour and informed him about the situation."
When local leader George Ochola came to the house and saw Sozi's body he called the police, who arrived immediately and opened a murder investigation.
Christian beaten after open-air debate
On 10 July, a Christian died from head injuries sustained in an attack by Muslim extremists the previous week. Robert Bwenje (28) had accompanied assistant pastor Ambrose Mugisha (25) of Elim Pentecostal Church in Nyamiringa village in central Uganda's Kiboga district to an open-air debate about Christianity and Islam in Sirimula village, Kyankwanzi district on 6 July.
The church had sent the assistant pastor to establish a church in Sirimula and he began to receive threatening messages on his phone, especially after several local Muslims became Christians during his outreach campaign. One message read, "We are giving days to bring back the Muslims that you converted to Christianity. We know you are hiding them."
Pastor Mugisha said that following the debate on 6 July, eight Muslims put their faith in Christ. "This angered the Muslims," he said, "But they could not attack us because we had tight security from the police."
On their way home, however, he and Robert Bwenje were ambushed while crossing a swamp. "We saw men dressed in Islamic attire coming from the bush in different directions and shouting 'Allah akbar, Allah akbar,'" Pastor Mugisha told Morning Star News.
He said the attackers forced them to hand over Bibles and other books they were carrying. "They removed the Quran and then burned the rest of the books, including the Bibles, and then beat us with sticks," he said. He was cut on the head and jumped into the water, managing to swim to the other side where passersby found him bleeding and rescued him.
The attackers continued beating Robert, however, but then fled and the passersby took both the wounded Christians to a nearby clinic for first aid and later to a hospital in Kiboga. Pastor Godfrey Ssemujju of Elim Pentecostal Church visited the two Christians in hospital on 10 July, and Robert died later that night. He is survived by his wife.
"Bwenje succumbed to deep head injuries, and we buried him on July 12," Pastor Ssemujju told Morning Star News. "We reported the incident at Kiboga Central police station."
Police arrested the lead attacker, charged him with attempted murder and began a search for the other attackers.
On 8 August, Morning Star News reported that Pastor Godfrey Ssemujju said he fears for his life following three months of death threats from Muslim extremists. He said the threats increased after his preaching at open-air events and conversations led to seventy Muslims turning to Christ. The churches he oversees have suffered several attacks in recent months.
Convert killed for leading Muslims to Christ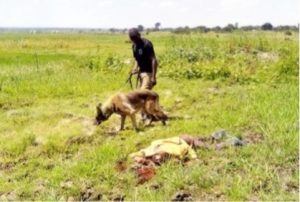 On 3 July, three Islamists killed a convert to Christianity for leading Muslims to Christ.
Simolya Latifu (47) of Molu village in eastern Uganda's Kibuku district was killed with a sword at a swamp near Molu; the photo shows a police officer and dog with his body.
Shortly after Simolya left an evening service at Christ Discipleship Worship Centre in Molu, witnesses said they saw a motorbike and then heard wailing and calls for help at a nearby swamp. "The killers were condemning him for converting Muslims to Christianity," a witness told Morning Star News. "We hid ourselves in a thick bush."
The witness said they saw one of the attackers cut Simolya on the head with a sword, and continued: "Thereafter they left. We remained there for about thirty minutes, and then we took courage and slowly went to see the slain man and discovered that he worshipped with us at Christ Discipleship Worship Centre."
The witnesses filed a police report and informed church pastor Emmanuel Muzei, who said: "Angry Christian residents from Molu village flooded to Molu village swamp to mourn the death of their beloved convert from Islam, who had been going from one church to another testifying about how he converted to Christianity. His testimony was an encouragement to many Christians in my church and led many to Christ. We have lost a dynamic evangelist."
Police arrested the main suspect, who told police, "We warned him to come back to our religion and gave him several opportunities, but he turned a deaf ear – we're proud of killing him."
Simolya became a Christian in June 2019 and attracted opposition after leading several Muslims to Christ. He fled to safety in another district but returned to Kibuku in February, believing that the extremists had given up looking for him. He is survived by his wife and five children.
(Morning Star News)
Photo: Morning Star News
Map: Church in Chains Global Guide
Share this