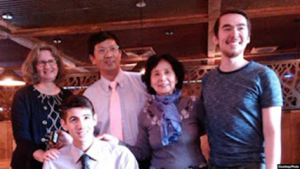 On 7 February, Pastor John Cao's mother visited him in prison in Kunming, capital of China's Yunnan province. Sun Jinhuan (87) had not met with her son face-to-face for over three years. (She is second from right in the family photo, which was taken several years ago and includes Pastor John's wife Jamie and sons Ben and Amos.)
Pastor John (63) is serving a seven-year prison sentence for "organising illegal border crossings" between China and Myanmar. A resident of North Carolina, he made many trips to his native China to establish schools and work among the poor before expanding his humanitarian work into Myanmar. He was arrested in 2017 while returning to China from Myanmar.
On the morning of Sun Jinhuan's visit, Tuesday 7 February, she went to Kunming No. 2 Prison with a Christian friend named Jing Ruxia, a teacher who had previously worked with Pastor John. Sun Jinhuan was given a visitor number and before joining the long queue she did a Covid test in the lobby. Police officers were very helpful and Sun Jinhuan later learned that the officer who helped her climb the stairs to the visiting area was the prison warden. He led her to a seat and after only a few seconds she saw her son.
During their conversation, Sun Jinhuan asked Pastor John what he ate during the recent Chinese New Year, to which he replied, "We ate fish, meat, vegetables and fruit. We also had a great lantern festival."
"Wow! You ate better than rich people in the old days!" she joked, and they both laughed.
When she told her son how concerned Christians around the world have been about him he responded, "Please tell fellow brothers and sisters from all over the world that I am healthy. Please, don't worry about me."
The rest of the visit passed quickly as Sun Jinhuan shared family updates, including telling her son how much Jamie and their sons want to come to China to visit him. As the visit ended, Pastor John stood up and waved both hands in farewell as his mother disappeared down the corridor.
After the visit Sun Jinhuan reflected, "Today God helped me accomplish a huge thing. My heart is full of joy."
Video call in December
Pastor John and his mother have been allowed to have some virtual visits, the most recent taking place on 7 December 2022. Their video call was supposed to start at 9.15 and they both arrived at their designated locations twenty minutes early, but internet connection issues meant that the call was postponed for two hours. Pastor John's sister flew to Kunming to join her mother on the call, and they reported that he was in good spirits.
Pastor John's sister told him that his younger son would become a father in 2023 and he laughed aloud, as did prison police and other people in earshot. His mother told him that Jamie wanted to come to China to visit him but was unable to because of Covid.
Read Pastor John's Prisoner Profile.
(China Aid, Church in Chains Prisoner Profile)
Share this