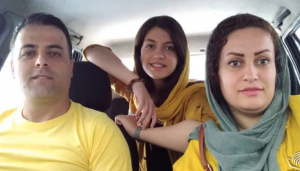 Saheb Fadaie (41) has been granted early release from Tehran's Evin prison, where he was serving a six-year sentence, and has returned home to his family (pictured) in Rasht. He was released on 8 February as part of a wider pardon of prisoners approved by Supreme Leader Khamenei in honour of the 44th anniversary of the 1979 Islamic Revolution. The state news agency IRNA announced that "tens of thousands" of prisoners had been pardoned.
Saheb's release is unconditional and he will not have to serve the two years in internal exile that he was sentenced to serve after his prison term. Previously he had been offered conditional release several times, contingent upon admitting he had acted wrongly and committing to refrain from doing so in future, but he refused to accept any limitation on his  freedom to worship. His internal exile was due to be served in Nehbandan County, South Khorasan Province, close to the border with Afghanistan.
Article 18 reported that Saheb was unexpectedly released in the small hours of the morning and that he made his way home to Rasht, four hours' drive north of Tehran to surprise his wife Marjan and their 15-year-old daughter Marta.
Before his arrest, Saheb was a deacon in the Church of Iran house church network in Rasht, capital of Gilan province. In May 2016, he and three Christian friends, all former Muslims, were arrested during a series of raids by Ministry of Intelligence agents on Christian homes in Rasht.
In July 2018, Saheb and Pastor Youcef Nadarkhani, along with fellow house-church members Mohammadreza Omidi and Yasser Mossayebzadeh, began serving ten-year prison sentences in Evin prison for "acting against national security" including "propagating house churches" and "promoting Zionist Christianity". Following a retrial in May 2020, Saheb's sentence was reduced to six years in prison.
Youcef is the only one of the four still in prison (his sentence was also reduced to six years on retrial) as Mohammadreza was released in 2020 (he then served two years in internal exile) and Yasser was released in 2021.
(Article 18, Middle East Concern)
Share this