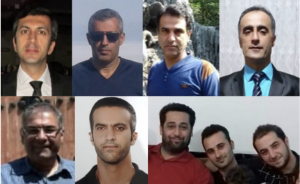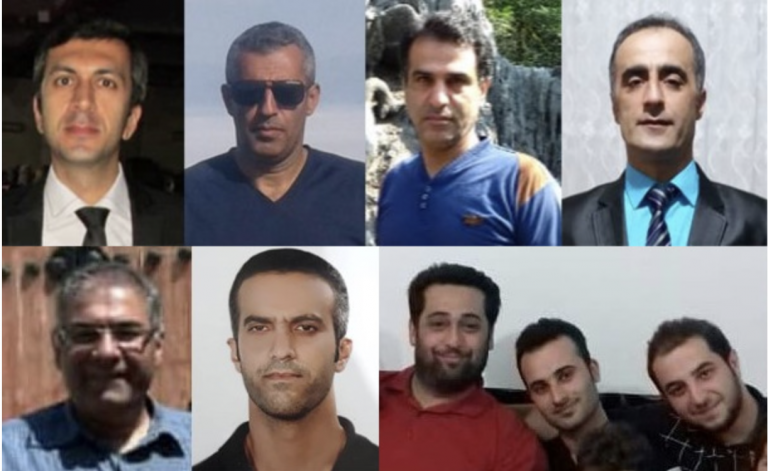 Nine Christian converts serving five-year sentences for their house-church activities have been conditionally released from prison, pending a review of their case.
The nine men (left to right, from top: Mohammed Vafadar, Kamal Naamanian, Hossein Kadivar, Khalil Dehghanpour, Pastor Abdolreza [Matthias] Haghnejad, Shahrooz Eslamdoust and a group photo of Behnam Akhlaghi, Babak Hosseinzadeh and Mehdi Khatibi) were informed on 29 December that they would be released on or before the New Year.
Pastor Matthias Haghnejad was released from Anzali Prison near Rasht on 30 December and the remaining eight men were released from Tehran's Evin Prison on 1 January.
Their conditional release follows the Supreme Court's ruling of 3 November 2021 that belonging to a house church is not a criminal offence. This ruling paved the way for the nine Christians to be released until a court reconsiders their case and issues a new judgment. On 24 November, the Supreme Court ordered a review of their sentences, stating again that involvement in house churches should not be considered a crime against national security.
All nine men are members of the non-Trinitarian Church of Iran in the northern city of Rasht and were arrested during raids on their homes and house churches in January and February 2019. Each was sentenced to five years in prison in October 2019  for "acting against national security" and "promoting Zionism". Judge Mohammad Moghiseh, who sentenced them, has been nicknamed the "Judge of Death" for his harsh treatment of prisoners of conscience.
Following an unsuccessful appeal in February 2020, those of the nine who had been released on bail were summoned to Evin Prison, Tehran, to join the others who had not been granted bail. Pastor Matthias was transferred to Anzali prison, nearer to his family, on 17 August 2021.
Two of the nine men, Behnam Akhlaghi and Babak Hossainzadeh, inspired Article 18's #Place2Worship campaign when, during a short furlough in October, they recorded videos and wrote an open letter to the Iranian authorities asking, "Where can we, as Persian-speaking Christians, worship once we have finished serving our prison sentences?"
Churches in Iran are not permitted to conduct services in Farsi (Persian, the official language of Iran, which is spoken by the general populace). The historic churches conduct their services in the Armenian and Assyrian languages and they are not allowed to accept converts, who have no option but to meet in homes, using Farsi.
(Article 18, Middle East Concern)
Share this