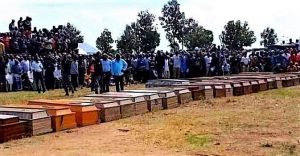 Militant Fulani herdsmen and other armed attackers in Kaduna state killed at least forty Christians in Mallagum village on 18 December, another three Christians in nearby Kagoro on 23 December and killed one Christian and kidnapped 53 others in Angwan Aku on 25 December.
Mallagum, 18 December
On 18 December, forty Christians were killed and more than one hundred houses were burned down in Mallagum; the photo shows coffins lined up for a funeral on 22 December.
Local resident Rikichi David told Morning Star News in a text message, "The attackers, whom we know are herdsmen and armed bandits, attacked our town at about 11 pm on Sunday December 18. Six members of my family were among those killed."
At the funeral, Father Benjamin Bala said gunshots began after 11 pm on 18 December, and added: "We made efforts to contact security agents. After one or two calls, however, the network became inaccessible. Within a few minutes, many houses were in flames as we could hear helpless people who were trapped, crying for help that did not come until their voices went silent in painful death. In this attack, about six families were entirely wiped out."
When police arrived later, the attackers fled. By the next day at least forty people were dead, many others wounded, scores of homes and grain houses had been burned down and many villagers were displaced.
Spokesman for the Southern Kaduna People's Union Luka Biniyat said, "Members of six families who totalled forty were killed by the herdsmen and bandits, while 102 houses were burned down. Their homes were also looted as food stuffs and other household valuables were carted away by the terrorists."
Luka Biniyat said that some days before the attack villagers had noticed herdsmen from outside the area coming from different directions on motorbikes to set up camp in the nearby wilderness. He added that during the five days before the attack they killed at least three Christian farmers working in their fields.
Kagora, 23 December
On 23 December, three Christians were killed in Kagoro in an attack that had begun four days previously, when homes and barns were torched. Kagoro is home to the Evangelical Church Winning All's Theological Seminary and College of Health Technology, as well as several churches.
"We're being attacked again by terrorists. There are gunshots everywhere again this night," local resident Jay Awan told Morning Star News in a text message on 23 December. Another resident, Amos David, had texted Morning Star News on 19 December to say that an attack on Kagoro had begun that night – "Homes and barns are still burning as I send out this message to you," he said.
Kagoro resident Emmanuel Gandu told Morning Star News about the effects of the ongoing attacks by Fulani militants: "Family life has been disrupted, the lucky survivors have become refugees in their land waiting for palliatives in an endless genocide they can't understand. Mass graves litter the community and the countryside. Our people can no longer go to their farms for fear of being gunned down or macheted… Lamentably, the Fulani terrorist attacks have continued unabated as they are heard chanting, 'Allah akbar' during the killing and destructive expeditions." He added that without decisive and urgent action Christians in Kagoro may be wiped out.
Angwan Aku, 25 December
One Christian was killed and 53 were kidnapped by Fulani herdsmen and other armed attackers in a raid on Angwan Aku village on 25 December.
"Church worship service was about to commence when the attackers arrived at the village riding on motorbikes and shooting sporadically," local resident James Akawu told Morning Star News in a text message. "They killed one Christian and kidnapped 53 other Christians who are still being held captive."
Evangelical Church Winning All family attacked, abducted
Earlier in the month, attacks on the predominantly-Christian villages of Ungwan Bawa and Kamuru in Kaduna state between 12 and 16 December left at least five people dead, others injured and several abducted.
Among those abducted in the attack on Ungwan Bawa in the early hours of 16 December were the wife and children of Evangelical Church Winning All leader Rev Yusuf Gan, who was severely assaulted in front of them before they were taken away.
Recent attacks elsewhere in Nigeria
On 19 December in Nigeria's northeastern Borno state, Islamic State West Africa Province (ISWAP) terrorists attacked two predominantly-Christian villages, Jibwiwi (Debiro) and Ngulde, at about 6 pm, arriving on motorbikes armed with guns and cluster bombs. Local residents escaped and nobody was killed, but several houses were torched and livestock and storehouses of harvested crops were destroyed. Nine days earlier in the same area, terrorists raided a home in Pelachiroma village on the night of 10 December and shot dead a pregnant Christian woman, Mary Barka Paul Sawa. Her husband Paul Sawa sustained gunshot wounds before escaping.
On 17 December in Adaka village in Nigeria's east-central Benue state, Fulani herdsmen killed three Christians with machetes as they worked on their farm. Paul Hemba, special security adviser to the Benue state governor, stated: "The villagers said they've recently been under constant attacks from the Fulani herdsmen" and added that the armed herdsmen have also been destroying villagers' crops.
On 29 November in Benue state's Yelewata village, Fulani herdsmen killed a Christian couple and their daughter and wounded another daughter as they worked on their farm. The daughter who survived, Blessing Ukertor (20), was hospitalised with deep machete wounds.
(Morning Star News, Christian Solidarity Worldwide)
Photo: Anthony Timothy for Morning Star News
Share this