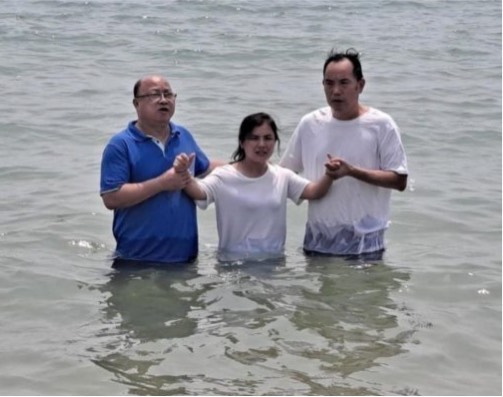 Shenzhen city's Trinity Harvest Gospel Church in Guangdong province was attacked on 10 September as its members held a baptism at a beach on China's southeast coast. Pastor Mao Zhibin and Wu Lixin baptised four Christians despite being stoned, verbally abused and threatened by passersby.
Church leaders originally planned to hold the baptism on 3 September but postponed the event for a week due to zero-Covid quarantine measures. Shenzhen city has been locked down several times this year and church members were excited to be able to gather together at the beach. They tried to keep the event a secret because police and government officials had previously harassed them at baptisms, including at Easter, when they were harassed after Pastor Mao baptised six Christians at a beach.
This time, church members did not post on social media apps in advance of the event and everything was arranged solely by Pastor Mao. However, when they arrived at the beach everyone was required to scan their Covid health codes before entering, which made the government aware of their location. At noon, after church members had spent the morning swimming and chatting, several people approached Pastor Mao and said, "I know you. Don't perform religious activities here!"
Suddenly, as Pastor Mao gathered the church for a group photo, more than twenty people arrived, who were not in uniform and did not show identification but tried to stop church members taking photos.
After taking group photos, Pastor Mao and Wu Lixin walked into the water to begin the baptism, and more than ten bystanders started to throw rocks at them, reportedly instructed by a supervisor at the beach. Countless stones fell around the Christians in the water, but nobody was injured. Many church members took videos and some of the onlookers tried to block video cameras with their hands.
After the baptism, as church members went to a restaurant to celebrate, they were still being monitored by the unidentified crowd.
Pastor Mao posted on his Facebook page: "Today is the mid-autumn festival of 2022. Our Trinity Harvest Gospel Church baptised believers on the beach, but we were attacked by stones. Thanks to God's protection and grace, we were able to baptise 2 Brothers and 2 Sisters. I'm deeply moved that the 4 believers were so brave. Although they were faced with threats and stones, they finished the baptism with faith. This reminded me of Jesus's words: 'Whoever acknowledges me before others, I will also acknowledge before my Father in heaven (Matthew 10:32).' One sister said after the baptism: 'This is such an unforgettable experience. I feel I'm different now. I no longer fear many of the things I used to fear.'"
Leaders sign Pastor Wang Yi's letter
Shenzhen Trinity Harvest Gospel Church was established nearly six years ago, with a focus on social justice. It has attracted a lot of dissidents and has become a target of persecution, including several raids.
In 2018, Pastor Mao Zhibin and Elder Shen Ling joined over four hundred other ministers to sign Pastor Wang Yi's letter, "A Joint Statement by Pastors: A Declaration for the Sake of the Christian Faith", a document that combined a statement of faith with a protest against increased state interference in religious activities since new Regulations for Religious Affairs had come into effect in February of that year.
(China Aid)
Share this