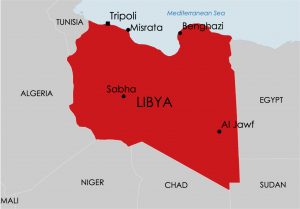 The Misrata Court of Appeal in northwest Libya has sentenced a young Christian convert from Islam to death. His name is withheld for security reasons.
The young man, who became a Christian four years ago, has been detained several times since his conversion by militias that tried to force him to recant his faith – which he refused to do. Militias act as police, intelligence agents and army in Libya, due to the lack of rule of law and official law enforcement agencies.
The young Christian, who did not have legal representation during the proceedings, was required to pay for publication of the verdict in a local newspaper and on a local radio station and to display it outside his home and the court.
Death penalty
Apostasy is not a capital offence in Libya's penal code, which means that converts are usually tried for treason. However, the Misrata court based its decision on a law enacted by the General National Congress (GNC), a temporary elected legislative body that sat between 2012 and 2014. The GNC made several amendments to the penal code to bring it in line with Sharia law, one of the amendments being to add the death penalty for apostates from Islam who refuse to recant.
In 2014 a new legislative body was elected, the House of Representatives, which moved to Tobruk in the east of the country and abolished all laws enacted by the GNC. However, in the context of the continuing power struggle between administrations in Tripoli and Tobruk, the Tripoli-based Supreme Court ruled in 2015 that the House of Representatives was "invalid" and therefore its decrees were not legally valid. This ruling allows courts to apply laws passed by the GNC, including the death penalty for apostasy.
Prayer requests
Christians in Libya have asked for prayer:
that their courageous brother would know the peace of Jesus and the comfort of the Holy Spirit
that the death sentence would be halted and a fair trial held
that he would be released immediately
for his safety and well-being in the future
for peace, stability and tolerance in their war-torn country
Read more about the situation facing Christians in Libya in Church in Chains' Libya Country Profile.
(Barnabas Aid, Middle East Concern)
Share this