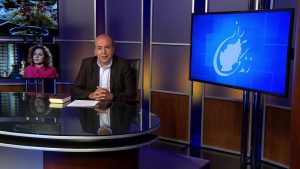 "Christians in Afghanistan live under daily threat and in danger," said Shoaib Ebadi (pictured) an Afghan Christian, now living in Canada, who broadcasts into the country. "The fighting is ongoing. We hear that the Taliban are stopping people and wanting to search their mobile phones. The people are afraid."
Arman*, an Afghan Christian who is in contact with the Christian satellite television channel SAT-7 PARS said, "There is an atmosphere of fear and intimidation that rules society. Every moment we live with the possibility of physical violence, arrest, humiliating and insulting treatment, and even summary executions."
In August 2021, the Taliban took power in Afghanistan and many Afghan citizens deemed "vulnerable" (including those who worked with the ousted government, the US and UK military forces and members of particular social, religious or ethnic groups) were hastily evacuated from the country. Many Christians sought to leave the country and Shai Fund was one of several groups that assisted them to leave.
Arman, a Christian who remains in the country, was dismissed from his job in the legal sector when the Taliban came to power. He told SAT-7 PARS, "Poverty and financial problems have become the greatest preoccupation of our lives. All we want to do is stay alive. We work so hard just to make sure that we don't die of starvation, especially for my young children who are the most vulnerable. I feel humiliated and depressed because of my unemployment.
"The only hope we have is in the true God who grants us comfort and grace. This trust and faith in the power of God has caused me to live with peace in my heart and mind, without anxiety and fear."
Most Christians in Afghanistan belong to the Hazara community, a predominantly Shia ethnic and religious minority. Hazara are physically distinguishable from mainstream Afghan society and have suffered multiple types of persecution, including ethnic cleansing, slavery and other atrocities under Taliban rule in the past.
Hazara speak Dari (the Afghan dialect of Persian) rather than Pashto, the national language. Christian Hazara, particularly women or church leaders, are the most vulnerable of all Afghan Christians.
"At checkpoints, peoples' mobile phones are checked, especially those belonging to Persian speakers. There is so much prejudice," a SAT-7 PARS viewer named Amin said. "Those who are not Pashtuns are imprisoned and beaten up on the pretext that they are dissidents or for other trumped-up charges without any kind of evidence. The security situation for someone like me who has accepted another faith is extremely concerning."
Daanesh*, another SAT-7 PARS viewer, said, "Fear and dread have taken hold of all of Afghanistan and have especially affected religious and ethnic minorities. We have several families here, including my own, who are all believers. Our hope is that the Lord will touch the heart of the people of Afghanistan and the situation in the country will calm down and we will be able to build a church and worship the Lord alongside our brothers and sisters. Truly, the opportunities for sharing the Gospel in Afghanistan are very great, if only the work can be done. Pray for us." 
* Names changed for security reasons
Read Afghanistan Country Profile
(SAT-7, International Christian Concern)
Image: Pamir Productions
Share this