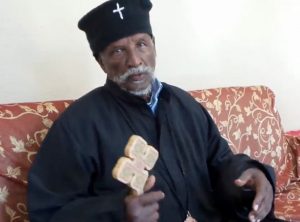 In the early hours of 9 February, the Eritrean Orthodox Patriarch, Abune Antonios,  died at the age of 94. While the cause of his death is not yet known, he had been in ill health for several years, suffering from severe diabetes and high blood pressure. The Eritrean government had refused to allow him to travel abroad for medical treatment.
The patriarch's body was taken to the Abune Andreas monastery where he had grown up, having entered at the age of five (his father, an Orthodox priest, gave two of his children to the monastery).
Patriarch Antonios was buried at the monastery on the day following his death at 9am local time.  A large crowd gathered at his burial site, many of whom had travelled long distances on foot to mourn the much-loved patriarch.
Patriarch Antonios spent the last sixteen years of his life under house-arrest in Asmara after being deposed by the Eritrean government when he asked for the release of three Orthodox priests (Rev Gebremedhin Gebregiorgis, Dr Futsum Gebrenegus and Dr Tekleab Menghisteab) who were imprisoned for leading a renewal movement. He had also refused to excommunicate thousands of members involved in the movement. He was replaced by a government-approved appointee. During his detention, the patriarch was held in the servants' quarters of a villa which was occupied by two pro-government bishops.
In 2016, the website of the Eritrean Orthodox Church published pictures of Patriarch Antonios meeting a delegation of monks, scholars and government officials, and embracing fellow bishops in what appeared to be a reconcilation. The website claimed that the patriarch had signed a letter admitting to "every mistake which he committed ten years ago when he was patriarch, which were the reasons for his dethronement" and stated that he said: "I am apologising with all my heart and willingly to continue in harmony and I confirm that with my official signature." However, it later emerged the Patriarch had not signed the "confession" letter and reconciliation never took place.
In a video smuggled out of Eritrea in 2019, Patriarch Antonios said his fellow clergy had abandoned him and did not care for his health or wellbeing. He also said he objected to government-appointed layman Yoftahe Dimetros leading the church. Soon afterwards, in a move to excommunicate Patriarch Antonios, five pro-government bishops signed a statement accusing him of heresy and stripping him of all official authority. Patriarch Antonios was subsequently kept in isolation for a period and was not allowed visits, even from family members.
Tributes
Dr Khataza Gondwe of Christian Solidarity Worldwide said, "Saddened beyond words at the death of Patriarch Antonios, legitimate head of the Eritrean Orthodox Church, who was effectively under house arrest since 2006 and illegally replaced twice. You fought a good fight, finished your course and kept the faith. I salute you courageous servant of God."
Archbishop Angaelos, Coptic Orthodox Archbishop of London, described the patriarch as "A gentle and faithful man I had the blessing of knowing personally and whose episcopal Consecration I attended. He has passed away after a long battle with illness, and an even more painful battle with injustice."
Elsa Chyrum of Human Rights Concern Eritrea tweeted "The world has lost a courageous and conscientious man, a religious leader of the highest calibre, never afraid to take a stand for truth and for genuine Christian faith."
Dr Selam Kidane of Release Eritrea said, "He fought an excellent fight and has honoured God in all his ways" and quoted Matthew 25:23, "Well done, good and faithful servant! You have been faithful with a few things; I will put you in charge of many things. Come and share your master's happiness!"
(Christian Solidarity Worldwide, Church in Chains Prisoner Profile)
Read Patriarch Antonios' Prisoner Profile
Share this