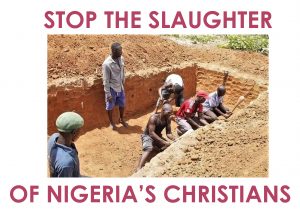 In 2021, according to Open Doors, of the nearly 6,000 Christians who were killed worldwide for following Jesus, almost 80% were from Nigeria. Between January and March 2022, 896 Nigerian civilians were killed in attacks by extremist Islamic militants, many of whom were killed for their Christian faith. The attacks on Christians are mostly concentrated in the north of the country and the Middle Belt, which is a volatile zone of convergence between the majority Muslim north and the majority Christian south.
Killing Christian men, as the main breadwinners, is one key strategy as it destroys livelihoods and depopulates Christian communities. However, in many attacks whole households are killed, including women and children. Thousands of women and girls have been abducted and subjected to enslavement, torture, rape, sexual slavery, forced pregnancy and forced marriage, and since 2020 there has been a huge increase in kidnapping of men, women and children for ransom.
Who is behind the attacks?
There are three main groups behind the violent attacks:
Boko Haram was founded to fight against government corruption in Nigeria and economic disparities between the north and the richer south. Its overarching aim, however, was to create an Islamic state, and adherents of the organisation became increasingly radicalised and violent. Loosely translated from Hausa, Boko Haram means "western education is forbidden".
The Islamic State in West Africa Province (ISWAP) is a splinter group of Boko Haram, which is waging a guerrilla war across northeast Nigeria and other countries on Lake Chad's periphery.
Fulani militants are members of a nomadic ethnic group of between 25 and 40 million people spread throughout West and Central Africa, over 90% of whom are Muslims. In recent years, Nigeria's Middle Belt has experienced widespread violence as militant Fulani herdsmen increasingly use military-grade weapons to carry out attacks in a campaign that began as an attempt to drive largely Christian farmers off fertile grazing land.
Inaction by state governments and federal government
To understand the context of why the state governments and federal government have failed to respond adequately to the ongoing violence, to protect affected communities or to bring perpetrators of violence to justice, it is important to highlight that twelve northern Nigerian states and parts of four others are governed by Islamic Sharia law. This means that the fundamental rights of non-Muslims are not upheld, Christians are effectively second-class citizens and there is a widespread culture of impunity.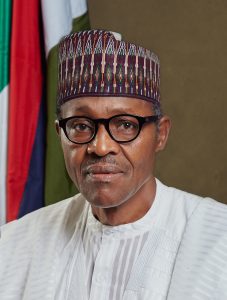 At national level, authorities deliberately distort the nature of the attacks by describing them as "clashes" between ethnic groups rather than premeditated murder of defenceless farming communities by militia armed with assault rifles. Many see a clear link between the fact that President Muhammadu Buhari (pictured) is an ethnic Fulani and his government's inaction to stop the violence perpetrated by militant members of his people group.
International Christian Concern President Jeff King justifiably asks: "Where is any action? The Nigerian government gives these attacks lip service without any meaningful response. Where is the outcry? Where is effective action? In Nigeria, the military, the police, and the intelligence agencies are all controlled by Muslims. This, coupled with a 20-year lack of response by these agencies, should naturally lead to deeper questioning by the international community. Simply put, the time for cheap talk and platitudes is over. The world is waking up and starting to ask, 'Is the Nigerian government complicit in these attacks?' Time will tell, but for this long-time watcher, the decision is in." 
International condemnation but very little action
In 2020 the United States Department of State put Nigeria for the first time on their list of Countries of Particular Concern (CPC) due to the fact that "systematic, ongoing, egregious violations of religious freedom" were being reported from north and central Nigeria. However in November 2021 the state department removed Nigeria from the list. Following this decision the Chair of the US Commission on International Religious Freedom (USCIRF), Nadine Maenza, said in a statement: "While the State Department took steps forward on some designations, USCIRF is especially displeased with the removal of Nigeria from its CPC designation, where it was rightfully placed last year." In April 2022, USCIRF again called on the State Department to renew the CPC designation.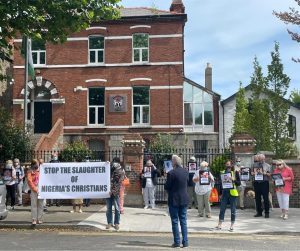 Many international observers have described the ongoing attacks as genocide, notably the UK All-Party Parliamentary Group for International Freedom of Religion or Belief, which published a report in June 2020 focusing on the escalating violence in central Nigeria, titled "Nigeria: Unfolding Genocide?"
In Ireland, the Nigerian Embassy has been unwilling to meet Church in Chains to discuss the ongoing attacks. In July 2021, Church in Chains held a silent vigil titled "STOP THE SLAUGHTER OF NIGERIA's CHRISTIANS" outside the Nigerian Embassy in Dublin.
International Criminal Court recent visit and criticism
In April 2022,   British lawyer and prosecutor of the International Criminal Court Karim Khan made his first visit to Nigeria to discuss with its government how to investigate crimes against humanity and war crimes. While the visit was welcomed by some, it was seen as controversial by others. According to the Christian Association of Nigeria (CAN) it was a "one-sided" visit as, to its knowledge, the prosecutor only met with members of the government and none of the victims or their representatives. CAN had previously made two unsuccessful attempts to contact Mr Khan directly on behalf of Christian victims and lamented the fact that it only learned about the visit through mainstream media coverage in Nigeria.
The following is an excerpt of the statement CAN issued following the prosecutor's visit to Nigeria: "In the time that the two Prosecutors of the International Criminal Court have been leisurely considering the Nigeria situation (November 2010 to the present), a conservative assessment of the number of Christians who have lost their lives because of their religious identity would be more than 25,000. There is no way to count the numbers of Nigerian Christians who have been wounded, abused and traumatised, let alone the massive property destruction and forced displacement of Christians from their homelands. Of course Moslems and other communities have been affected too, and they also must not be ignored in the Prosecutor's apparent attempt to wash his hands of Nigeria. But CAN is an umbrella organisation representing all the Christian denominations in this country; we are only mandated to address the disproportionately victimised and persecuted Christians of this country. Mr Khan's statement indicates that like his predecessor, he will not take with any seriousness the matter of the persecution of Nigerian Christians. We will continue to challenge vigorously."
(Christian Solidarity Worldwide, Church in Chains Topics, Epoch Times, International Christian Concern, Nigeria Everyday, Open Doors, World Watch Monitor)
Share this