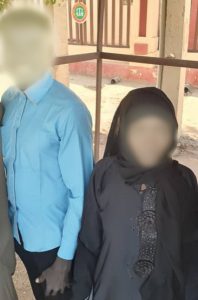 UPDATE 16 June 2022: Court hearing to be held on 17 June.
UPDATE 12 May 2022: At a court hearing on 12 May, a pastor (who was the sole witness heard) explained that, according to Christian marriage laws, Hamouda and Nada remain married despite being forced to divorce in an Islamic court. The next hearing is scheduled for 7 June. 
A Baptist couple from Al Bageir in Gezira state (also spelled Al Jazirah) could face a punishment of one hundred lashes after being charged with "adultery" because a Sharia court had annulled their marriage due to the husband's conversion to Christianity.
Hamouda Tia Kafi (34) and Nada Hamad Shukralah (25) were Muslims when they married in 2016, but when Hamouda became a Christian in 2018, Nada's family sought and won a Sharia court decision to annul the marriage on the basis of his conversion. At the time, apostasy was a crime punishable by death, though it was decriminalised in 2020 following the ousting of Sudan's Islamist president Omar al-Bashir in 2019.
Nada and the couple's two children went to stay with her family, but in 2021 she also converted to Christianity and returned to Hamouda with their children, whereupon her brother accused them of adultery.
Police arrested Hamouda and Nada on 17 August 2021 and they were charged under Article 146 of Sudan's 1991 criminal law, based on the Sharia court's annulment of their marriage. Article 146 calls for a sentence of flogging and expulsion from the area in the case of adultery by an unmarried person, and death by stoning if the person is married.
Nada and Hamouda were detained for four days before being released on bail. Their next case hearing has been scheduled for 12 May.
Their lawyer stated, "The court has interrogated the couple after two of the witnesses told the court that the marriage between the couple is illegal, and as a result they are accused of adultery under Article 146, but I told the court that the marriage is legal." He added that the couple is facing growing threats from hardline Muslims, in particular Nada's brother.
As well as flogging, Hamouda faces the possibility of an additional punishment of a year in exile.
Background
Following the ousting of President Bashir in April 2019, advances in religious freedom made by the transitional government, including the abolition of the death penalty for apostasy, led to increasing hope for Christians, who had suffered greatly during President Bashir's regime.
In October 2021, however, a military coup plunged the country into chaos and led Christians to fear renewed persecution as the allies of the ousted president began to be released from prison and re-appointed to positions of power.
Read more about the situation facing Sudanese Christians in Church in Chains' Sudan Country Profile.
(ADF International, Middle East Concern, Morning Star News)
Share this