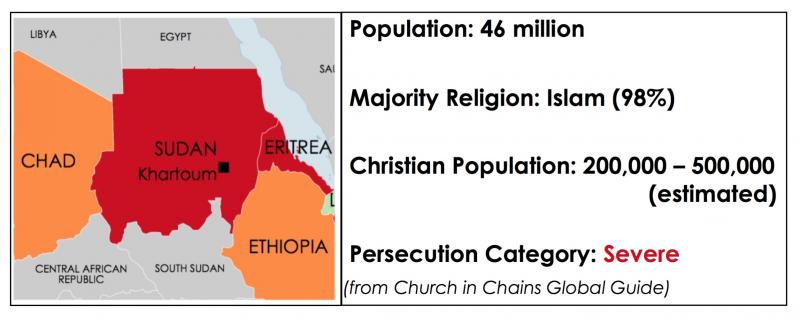 Sudan suffered decades of civil war after gaining independence from joint British/Egyptian rule in 1956. The first of two rounds of north-south conflict ended in 1972 but fighting broke out again in 1983, as famine hit the region.
The mainly Christian, Animist and African south struggled against economic, political and social domination by the Arab Muslim north, and the war became even more brutal when vast oil reserves were discovered in southern Sudan. As the war intensified and became increasingly fundamentalist, anti-Christian persecution grew, especially after 1985. Islamist militias bombed churches, murdered Christians (including pastors and church leaders), destroyed their villages, hospitals, schools and missions, and abducted women and children into slavery.
War ended with the signing of the north-south Comprehensive Peace Accord in 2005, and South Sudan seceded in 2011. The decades of conflict had led to the deaths of an estimated two million people and the displacement of four million people.
Conflict has continued in the western region of Darfur, where since 2003 the government has been trying to crush an insurgency against the Arab-dominated Khartoum government. The UN has accused pro-government militias of a campaign of ethnic cleansing against non-Arabs, and the International Criminal Court has indicted President Omar al-Bashir for alleged genocide and crimes against humanity in Darfur. About 300,000 people have been killed and more than two million have been displaced.
Conflict also continues in the oil-rich south, especially in the Nuba Mountains of South Kordofan (see below), where Christians are under severe attack.
Christians in Sudan
The vast majority of Sudan's population is Sunni Muslim, and Sharia law is the foundation of the legal system. President Omar al-Bashir intends to make Sudan a fully Islamic state, and his government is waging a campaign against Christians, especially converts from Islam, who are considered apostate and are legally punishable by death. They also face severe pressure from extended family, community and religious leaders.
Persecution of Christians includes arrest, interrogation and detention without charge, demolition of churches, closure of Christian institutions and deportation of foreign Christian workers. In April 2013, the government announced that no new licences would be granted for church buildings, citing a decrease in the South Sudanese population.
After secession, hundreds of thousands of Christians of South Sudanese origin were stranded in Sudan, without the resources to move to South Sudan. The authorities intimidated and harassed any who did not leave or cooperate with them in their effort to find other Christians.
Charges of "undermining national security" have been used to justify the detention of several Christians, including Yat Michael and Peter Yein, South Sudanese pastors who were in prison for eight and seven months respectively until their release in August 2015, following international pressure. They had been accused of several charges relating to espionage.
South Kordofan
Persecution of Christians is especially severe in the Nuba Mountains in South Kordofan state, near the border with South Sudan. The region has a significant black, ethnic Nuba Christian population, which is being targeted by government forces in a brutal campaign of aerial bombardment that began with the goal of quashing the Sudan People's Liberation Army rebels, but now is apparently aimed at ridding the region of non-Arabs and Christianity and making it solely Arabic and Islamic. Human Rights Watch has described the operation as ethnic cleansing.
As well as bombardment (which has destroyed homes, churches, schools and hospitals), starvation tactics are used, including destroying crops and livestock. Thousands of Nuba have taken refuge in caves and thousands more have fled to South Sudan, where they are crowded into refugee camps.
In April 2016, the US State Department designated Sudan a "Country of Particular Concern" for the tenth consecutive year for "having engaged in or tolerated particularly severe violations of religious freedom".
In May 2016, Open Doors published a report titled "Sudan: Ethnic Cleansing and the Persecution of Christians", which states that attacks against Christians in South Kordofan and Blue Nile states are "systematic" and "widespread" in their nature and qualify as "ethnic cleansing". It says successive Islamist regimes have attempted to turn Sudan into a Sharia state with strict punishments for apostasy, blasphemy and defamation of Islam, and that following South Sudan's independence, many Christians in Sudan (especially those with roots in South Sudan) were forced to leave, as the government embarked on a mission to create a "homogenous nation" with Islam the sole religion.
Meriam Ibrahim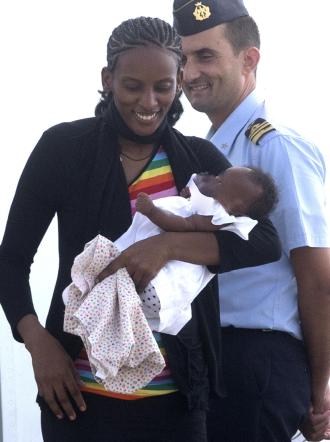 In 2014, there was international outcry over the case of Meriam Ibrahim, a young Christian doctor who was sentenced to death for apostasy on 15 May. Her mother had raised her as a Christian, but since her father – who had left the family – was Muslim, the Sudanese legal system considered her a Muslim.
Meriam, who was eight months pregnant, was imprisoned with her 20-month-old son Martin – he was not allowed to stay with his father, Meriam's husband Daniel Wani, a Christian from South Sudan. Their marriage was declared invalid under Islamic law: Meriam was accused of "infidelity" for having had children with a Christian and was sentenced to one hundred lashes for adultery. She was told that the children would become wards of the state and be raised as Muslims.
A judge told Meriam she would be freed if she renounced Christianity, but she refused to recant. In prison, her legs in shackles, she gave birth to a daughter, Maya.
Following international protests by Western embassies, legal and aid agencies and media, Meriam was released from prison on 23 June. She went to Khartoum airport to leave Sudan, but more than 40 agents from the National Intelligence and Security Services arrested her and she was charged with forging travel documents. Meriam was released while awaiting trial, and she and her family took refuge at the US embassy. Following increased international pressure, the government dropped charges against Meriam in July, and she and her family were allowed to leave the country. On 1 August, they arrived in the US.
(Barnabas, BBC, Christian Solidarity Worldwide, Guardian, Morning Star News, Release International, Voice of the Martyrs Canada, World Watch List)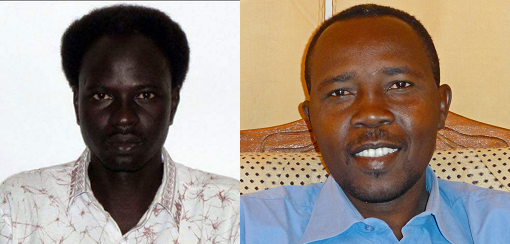 Two Sudanese Christians jailed with Czech Christian aid worker Petr Jasek were released from prison in Khartoum on 11 May after receiving a presidential pardon.