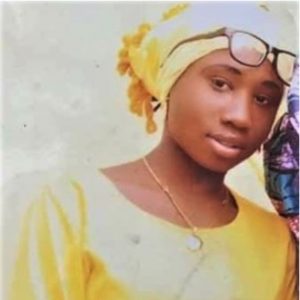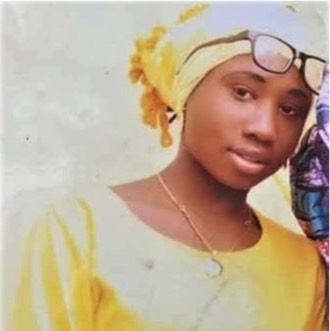 Leah Sharibu (17) is one of a group of 110 girls abducted by Boko Haram faction Islamic State West Africa Province (ISWAP) in February 2018 from their school in Dapchi, Yobe state in northeast Nigeria. The other girls are Muslims and were released in March, but Leah is a Christian and the militants said they would only release her if she converted to Islam. She refused. Leah is just one of thousands of women and children taken prisoner by Boko Haram since 2009.
LATEST NEWS (DECEMBER 2020): Nigerian media reported that Leah's distraught mother Rebecca fell ill on Christmas Day, just as she had at Christmas 2018 and 2019, and was hospitalised for observation.
Leah and her classmates were pupils at Government Girls Science and Technical College. On the evening of 19 February, ISWAP militants raided the school.
Affodia Andrawus (19), who witnessed the raid but managed to escape, described what happened: "After our evening prep, we were sitting down about to eat. Suddenly, we heard gunshots. We were trying to get ourselves coordinated when we heard more gunshots, and this time a bullet fell in front of the hostel where we were. The gunshots increased a lot, so we (Christians) decided to hold hands and run away. We knew we would be the target… Leah's hostel is in front of the gate, so we ran that way, calling for her. But she was caring for a sick roommate, Liyatu, and refused to leave her. Leah tried to carry Liyatu while we ran toward the fence. But Leah couldn't run fast and kept falling with Liyatu. Liyatu eventually managed to run to the staff quarters. Leah and some of the other students ran towards the gate where, unfortunately, the Boko Haram truck was parked. We kept shouting her name, but she was put on the truck. The rest of us jumped the fence and kept running. We ran to a thick bush behind our school and hid there that night."
The next day, teachers found the girls who had hidden and brought them back to the school, where parents were waiting. "There were tears of joy as parents saw their children," Affodia said. "Then those whose children were still missing began to weep and wail."
The school chaplain took roll call and found that Leah Sharibu was the only Christian missing; she and her parents are members of the Evangelical Church Winning All denomination. According to Affodia, two Sundays before the kidnapping, the chaplain had preached about standing for Christ no matter what.
On 21 March, the militants released 104 of the 110 missing schoolgirls. Five of the younger girls had died in the packed truck during the long journey to the Lake Chad region, either suffocating or being trampled to death, and were buried in the bush.
The released girls said the militants refused to free Leah because she would not renounce her faith and convert to Islam. "They freed all of us except one girl, Leah, whom they said would not go because she was a Christian," said Khadija Grema. "They didn't tell us any meaningful reason why we were freed and returned. They just said we are Muslims, and they felt it was right for them to free us so that we will not suffer."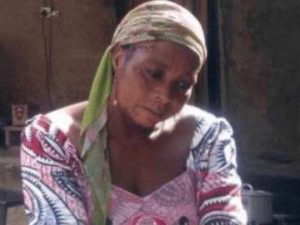 Leah's mother, Rebecca Sharibu (pictured), told Nigerian online news outlet Premium Times, "What her schoolmates that returned told me was that my daughter was told she must recite the Kalima Shahada [the Islamic profession of faith]. They said my daughter would only be brought back home the day she recites Kalima Shahada."
The girls told her that Leah insisted she did not know how to recite it and that she had not been brought up as a Muslim.
Bukar Kachalla, father of one of the abducted girls and secretary of the parents' group, said: "We were told by the Boko Haram that she was not released because she refused to put on hijab."
Militants from Boko Haram, which means "western education is forbidden", reportedly warned parents of the released girls not to send their daughters back to school.
Adamu Jumbam, father of Aisha Adamu (16), one of the girls who died, told Premium Times he was not happy with the Nigerian government and its security forces. In tears, he said: "It is very shocking and surprising to say that Boko Haram came into this community, picked our children without any one challenging them, and then brought them back on their own, dropped them in the town and then returned." He added that when the militants brought the girls back to Dapchi, soldiers simply "watched with folded arms while the insurgents left triumphantly".
The Nigerian government said it did not confront the insurgents when they delivered the released girls in order to safeguard the girls' lives. Christian Solidarity Worldwide reported that the releases followed an agreement that saw the armed forces withdraw from Dapchi, allowing the terrorists unhindered access.
On 17 September 2018, ISWAP militants killed Red Cross midwife Saifura Khorsa and said that they would kill Leah and two other hostages if the Nigerian government did not pay ransoms. On 15 October 2018 they killed one of them, Red Cross midwife Hauwa Liman. She and Saifura were Muslims, but the militants considered them apostates because they worked for the Red Cross. After Hauwa's execution, the militants said that they were going to keep Leah and UNICEF nurse Alice Nggadah (who is a Christian) as "slaves for life" because the government had not paid ransoms. Alice had been abducted on 1 March 2018 during an attack on Rann.
Family
Leah's mother Rebecca Sharibu works as a primary school teacher in Dapchi, while her father Nathan Sharibu works as a civil servant in Yola. She has one brother, Donald.
Rebecca Sharibu told Premium Times that her heart was broken when she searched through the released girls and could not find Leah. After hearing that her daughter had not been released, she collapsed from extreme shock and had to be taken to hospital.
Rebecca told Open Doors USA, "I am so proud of my Leah because she did not denounce Christ. When she went away to school, I gave her a copy of the Bible so she could have her personal devotions even when I am not there. As her mother, I know her to be an obedient daughter, respectful and someone who puts others before herself."
Leah reportedly asked her released classmates to take a message to her mother. It read: "My mother you should not be disturbed. I know it is not easy missing me, but I want to assure you that I am fine where I am… I am confident that one day I shall see your face again. If not here, then there at the bosom of our Lord Jesus Christ."
Nathan Sharibu, told Nigerian media, "They gave her the option of converting in order to be released but she said she will never become a Muslim. I am very sad… but I'm also jubilating too because my daughter did not denounce Christ."
Leah's family spoke at a press conference on 3 September 2019 in Yola, following the government's announcement that she is still alive. Those present included her biological mother Rahila Sharibu; Rebecca is Leah's stepmother, but she explained: "I am her mother because since she was very small, she was given to me. She grew up in my hands and I put her in nursery school, to primary school and up to secondary school. I trained her and taught her the fear of God and she grew up in the fear of God."
TIMELINE
19 February 2018 Militants from Boko Haram faction Islamic State West Africa Province (ISWAP) raided the Government Girls Science and Technical College in Dapchi, Yobe state, and kidnapped 110 schoolgirls, including Leah Sharibu.
21 March 2018 The militants released 104 of the 110 missing schoolgirls. Five of the younger girls had died in the packed truck during the long journey to the Lake Chad region. The released girls were Muslims, but the militants said they would only release Leah, a Christian, if she converted to Islam. She refused.
27 August 2018 Online Nigerian newspaper The Cable published an audio recording of Leah's voice. The 35-second audio file, in which Leah appeals for help, was accompanied by a photograph showing her sitting on a mat, wearing a hijab. The file and photograph are the first proof of life since Leah's abduction. Her family confirmed that the voice is hers.
September 2018 The militants threatened to kill Leah and two other hostages if the government did not meet their demands.
15 October 2018 ISWAP announced that it planned to hold Leah as a "slave for life".
31 August 2019 The Nigerian government released a statement confirming that Leah is still alive and that it is negotiating her release.
14 December 2019 Journalist Ahmad Salkida, known to have access to the Boko Haram leadership, posted a video in which college lecturer Bitrus Bwala, abducted by the ISWAP faction on 27 November 2019, said that Leah was alive and still with the insurgents.
20 January 2020 Christian Solidarity Worldwide reported that an aid worker released by ISWAP on 15 January said that Leah is alive and well. Jennifer Ukambong Samuel, who works for Action for International Medical Alliance, was abducted in Plateau state on 22 December 2019 with four other aid workers. All five were released following negotiations; it is unclear whether a ransom was paid. Jennifer Ukambong Samuel said she had not seen Leah but that she got her information from Christian nurse Alice Nggadah, an ISWAP hostage who is reportedly being held near Lake Chad, where she provides injured terrorists with medical treatment.
25 January 2020 Nigerian news media published unconfirmed reports that Leah had recently given birth to a baby boy, fathered by an ISWAP commander.
25 December 2020 Nigerian media reported that Leah's distraught mother Rebecca fell ill on Christmas Day, just as she had at Christmas 2018 and 2019, and was hospitalised for observation.
Read more about the persecution of Christians in Nigeria.
(Channels TV/Christian Solidarity Worldwide/Guardian/International Christian Concern/Morning Star News/New Telegraph/Open Doors USA/Premium Times/The Cable/World Watch Monitor)