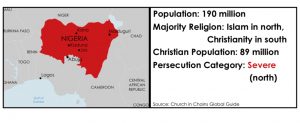 The Federal Republic of Nigeria is Africa's most populous country and its leading oil producer, but the majority of Nigerians live below the poverty line and corruption is widespread. Independence from Britain in 1960 was followed by decades of coups, civil war and military dictatorship.
Nigeria is constitutionally secular, with freedom of religion. The population is divided between the mainly Muslim north and the mainly Christian south, with both sharing the volatile Middle Belt.
Christians in Nigeria
Christians living in the north experience discrimination and a hostile atmosphere as Sharia law is in place in twelve states and in parts of four others. Christians are supposed to be exempt, but are often forced to comply, and they fear its spread.
Since 2009, the Islamist terrorist group Boko Haram has been carrying out an insurgency that has included mass shootings at markets and institutions, the bombing and torching of hundreds, perhaps thousands, of churches – many churches have to post security guards at the gates – and raids on villages by attackers armed with guns and machetes who kill inhabitants and torch their houses. Boko Haram and its offshoot Islamic State West Africa Province have murdered thousands of Christians and kidnapped thousands more. Christians complain that not enough is done to protect them and that the security forces are slow to respond during attacks.
In recent years, Nigeria's Middle Belt has been experiencing widespread violence as ethnic Fulani Muslim herdsmen increasingly use military-grade weapons to drive largely Christian farmers off fertile grazing land. Thousands of Christians have been killed and their properties looted and burned, including hundreds of church buildings. The Middle Belt is a volatile zone of convergence between the majority Muslim north and the majority Christian south.
More Christians have been martyred in northern and central Nigeria in recent years than anywhere else in the world, and some Muslims have been killed in retaliation. In Spring 2023, Barnabas Fund reported: "Even by conservative estimates, more than 10,000 Christians nationwide have been killed in Islamist violence since 2015."
The Chibok Schoolgirls
Among at least 4,000 Nigerian women and girls kidnapped by Boko Haram since the start of its insurgency, the most high-profile are the "Chibok schoolgirls" (now women in their twenties) abducted in April 2014 from the Government Girls' Secondary School in Chibok, Borno State. Most were from Christian families. Of the 276 girls kidnapped, many have escaped or have been released, but around 101 are still missing.
Church in Chains in Action
Church in Chains has met successive Nigerian Ambassadors to Ireland to raise concerns about the lack of government action to protect Christians and has sent aid via several partner organisations to support victims of attacks on Christian villages.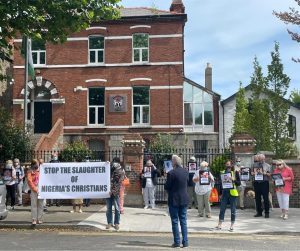 In July 2021, Church in Chains held a silent vigil at the Nigerian Embassy in Dublin to remember the lives of over 2,000 Christians killed in the Middle Belt region in the past two years. The vigil was organised after the Nigerian Embassy did not respond to a request (in three letters dating back to November 2020) for a meeting to discuss the situation.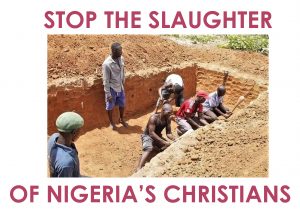 In June 2020 Church in Chains launched a postcard campaign to President Buhari to express shock at the slaughter of over 600 Christians since the start of the year.
In January 2020, following a period of intense persecution of Christians including the beheading of an abducted pastor, Church in Chains wrote a letter to the Nigerian Ambassador to Ireland, Dr Elizabeth Uzoma Emenike, appealing to the Nigerian government to "to acknowledge the reality of the persecution of Christians in the north and Middle Belt of Nigeria by terrorists and Fulani militants and to take strong, effective action to end it."
In 2016, Rev Soja Bewarang came to Dublin to speak at Church in Chains' annual conference.
(Christian Association of Nigeria, Christian Solidarity Worldwide, International Christian Concern, Morning Star News, Nigeria Social Violence Project, Open Doors International, Release International, Voice of the Martyrs Canada, Washington Post, World Watch List, World Watch Monitor)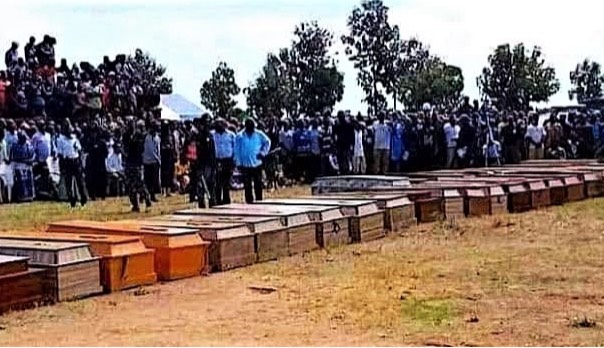 Militant Fulani herdsmen and other armed attackers in Kaduna state killed more than forty Christians and kidnapped 53 others between 18 and 25 December