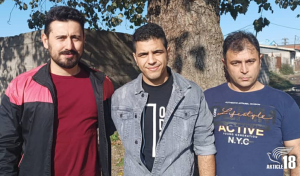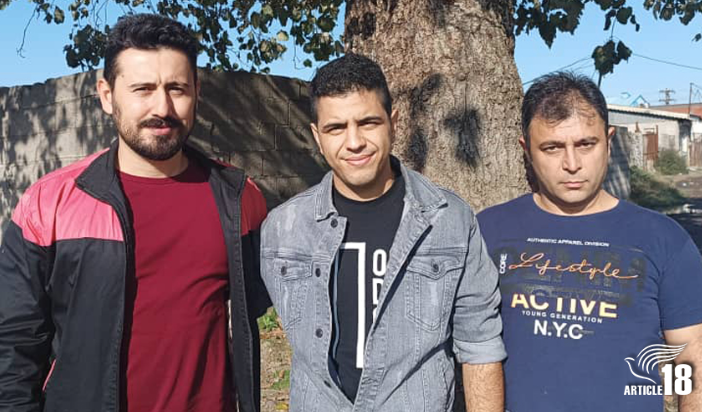 Christian converts Ayoob Poor-Rezazadeh (30), Ahmad Sarparast (27) and Morteza Mashoodkari (40), who were imprisoned because of their house-church activities, have been permitted to serve the remainder of their sentences outside prison on condition that they report back daily to work at an adjacent factory.
Ayoob, Ahmad and Morteza (pictured, left to right) are members of the non-Trinitarian Church of Iran denomination, which Iranian authorities have been targeting in recent years. They were arrested in September 2021 in their home city of Rasht in northern Iran – Ahmad and Ayoub at a house-church service and Morteza at his home. Intelligence agents from the Islamic Revolutionary Guards Corps took them to an IRGC detention centre in Rasht and put them in solitary confinement for interrogation. They were released on bail after several weeks.
In January 2022 the three men were officially charged with "engaging in propaganda and educational activities for deviant beliefs contrary to the holy Sharia" and "connections with foreign leaders".
The following month, giving their last defence at the Revolutionary Court of Rasht, the men denied all charges against them, saying they were "just Christians worshipping according to the Bible" and "have not engaged in any propaganda against the regime or any action against national security". They denied receiving any funds from abroad and no evidence was provided to support the allegation.
However, the Christians were convicted of "spreading deviant beliefs contrary to Islam" and in April 2022 they were each sentenced to five years in prison. They appealed their sentences.
IRGC intelligence agents re-arrested Ayoob, Ahmad and Morteza in May 2022 and brought them to an IRGC detention centre – the Christians were told the reason for their re-arrest was that they had continued their religious activities and that they had been brought in to "consider their actions in private". They were transferred to Lakan Prison.
In June 2022 the three Christians' sentences were upheld on appeal, but Morteza's sentence was halved in November 2022 and he was released from Lakan Prison in May 2023. No explanation was given for his partial pardon and Article 18's advocacy director  Mansour Borji said the decision to pardon only one of the three men appeared to be "completely random".
Ahmad and Ayoob were released in late October 2023 and all three must return to the prison from 7am to 5pm each day to work at the factory next door.
Article 18 reports that at least 106 Christians were arrested between June and August this year, at least four of whom remain in detention, and some have already received prison sentences of up to five years related to their house-church activities.
(Article18)
Photo: Article 18
Share this